Object Storage
Cloud Object Storage makes it possible to store practically limitless amounts of data, simply and cost effectively. It is commonly used for data archiving and backup, web and mobile applications, and as scalable, persistent storage for analytics.
Solution #1 Backup to Cloud
IBM Cloud Object Storage provides durable, secure and cost-effective cloud storage for a variety of backup needs. Protect the data in your datacenter by backing it up to IBM Cloud Object Storage to replace tape, streamline backup operations, and simplify archival processes. Most major backup software vendors integrate directly with IBM Cloud Object Storage and offer turnkey data backup solutions. For data in the cloud, leverage the cloud-native capabilities and the low cost of Cloud Object Storage for an automated, application-consistent backup and recovery solution. IBM Cloud Object Storage can scale as required for today's ever-increasing backup demands and grow cost-effectively to meet new business requirements across the enterprise.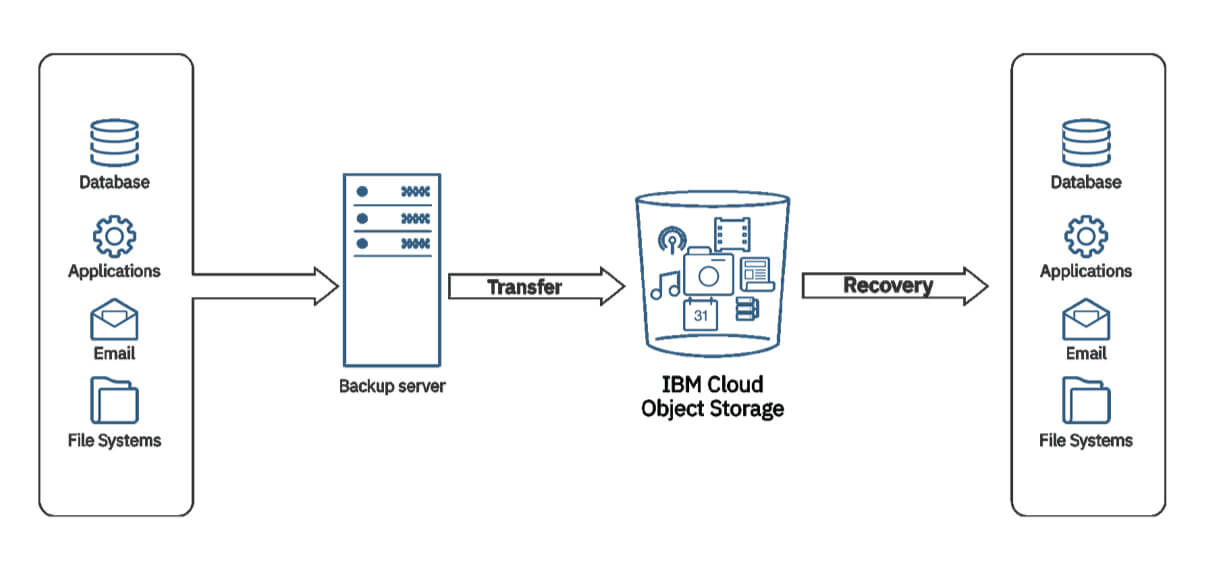 Solution #2 Archive with long term retention.
IBM Cloud Object Storage is designed to deal with your data challenges. The transparent cloud tiering function in IBM Spectrum Scale software automatically tiers active archive data to IBM Cloud Object Storage through storage-aware and policy-driven configurations. This process is integrated without a gateway and presents a single, integrated solution and single namespace to your data. IBM Cloud Object Storage:
Supports a unified IBM solution for high-performance network attached storage (NAS) that is more easily expandable for active archive data
Provides simplified management for both file management and active archive data
Supplies enterprise security from IBM Spectrum Scale software and Cloud Object Storage