IBM BigFix
Cohesive endpoint hygiene is critical to your security strategy. Take control of your endpoints fast.
IBM BigFix: A collaborative endpoint management and security platform
IT security and operations teams are struggling to keep pace with global cyber criminals – often using up to 85 different tools from up to 45 different vendors. This makes it hard to prioritize patching and remediation. Plus, not all remediation tools are created equal.  If you can't see your endpoints and your tools don't work together, you can't secure your devices and data.
With IBM® BigFix®, IT operations and security teams can collaborate more effectively to cut operational costs, compress endpoint management cycles, enforce compliance in real-time and improve productivity. Here's how:
Extending existing capabilities and addressing any functional gaps that may exist within a particular tool
Enabling staff to use solutions they're already familiar and avoiding training costs and ramp-up delays
Empowering security and infrastructure teams to see and act on the same endpoint data without switching between multiple applications (which also saves time and can enable better decision making)
Optimizing ROI on existing investments
Don't drown in a sea of cyberthreats: Mitigate attack with IBM BigFix and IBM QRadar
IBM BigFix addresses the needs of enterprise IT infrastructure and security specialists
Discover Quickly
Identifies and provides accurate, real-time information about your endpoints — regardless of operating system, location or connectivity
Enables SOC security teams to see endpoint data within their existing security information and event management (SIEM) and incident response tools
Manage Easily
Quickly deploys and patches operating systems and third-party software with high first-pass success rates
Reduces annual software spend by assessing application usages
Inventories endpoints across multiple operating systems
Integrates with endpoint detection and response (EDR) tools to help security teams better identify threats and operations teams to remediate endpoints at scale
Secure Continuously
Provides continuous monitoring, patching, and enforcement of security policies across endpoints
Keeps remote servers and internet-facing endpoints updated, secure, and always properly configured
Integrates with network access control tools to enforce endpoint compliance for stronger network access control and remediation workflow orchestration
The collaborative endpoint management and security platform
Compliance
Continuous policy enforcement and reporting
Lifecycle
Software patching, distribution and provisioning
Inventory
Audit authorized and unauthorized software
Patch
Automated patching with high first-pass success
IBM BigFix Compliance
Continuously monitor and enforce endpoint security configurations to ensure compliance with regulatory or organizational security policies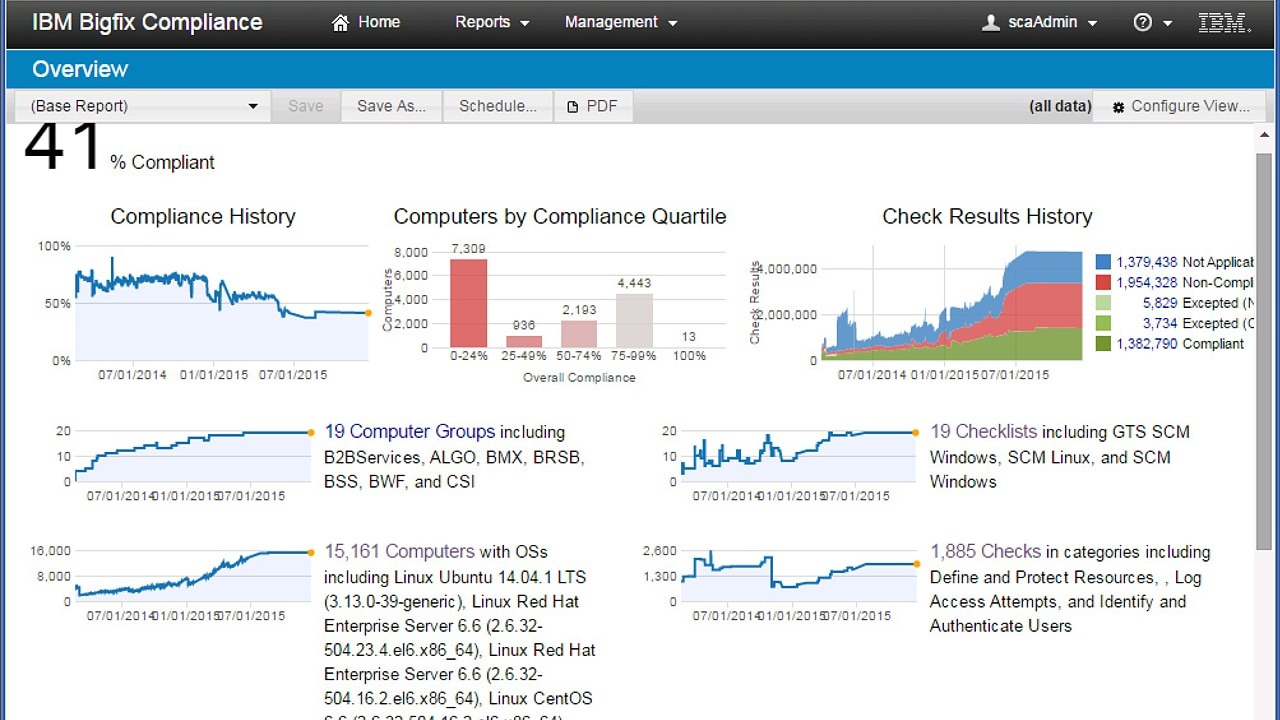 Enforce Continuous Security Compliance for All Endpoints
IBM BigFix Compliance enforces continuous compliance with security policies throughout your organization for every endpoint both on and off the corporate network. It includes out-of-the-box support for most popular security benchmarks published by CIS, DISA STIG, USGCB and PCI-DSS. An intelligent agent on every endpoint monitors, enforces and reports on the security configuration status of the endpoints in real-time regardless of OS type or location. Any compliance drifts are reported instantly and can be remediated quickly, to reduce the overall security risks.
Enforce Security Compliance
Gain continuous real-time enforcement of security policies across all endpoints, regardless of their network connection status, and eliminate compliance drift immediately—lowering your security risk.
Adhere to Best Practices
Provide more than 13,000 compliance checks to support over 50 platforms and middleware applications, based on best practice benchmarks published by CIS, DISA STIG, USGCB, and PCI DSS.
Reduce Operational Costs
Share the same management console and infrastructure with other BigFix applications. Both endpoint security and endpoint management are integrated into a single platform to lower administration costs.
Key Features of IBM BigFix Compliance
Enforces continuous security compliance
Provides PCI-DSS compliance
Manages hundreds of thousands of endpoints
Delivers a broad range of security functions
Makes the most of BigFix technology
IBM BigFix Lifecycle
Reduce cost, Risk and complexity of managing servers, Desktops, Laptops, Point-of-sale and Other devices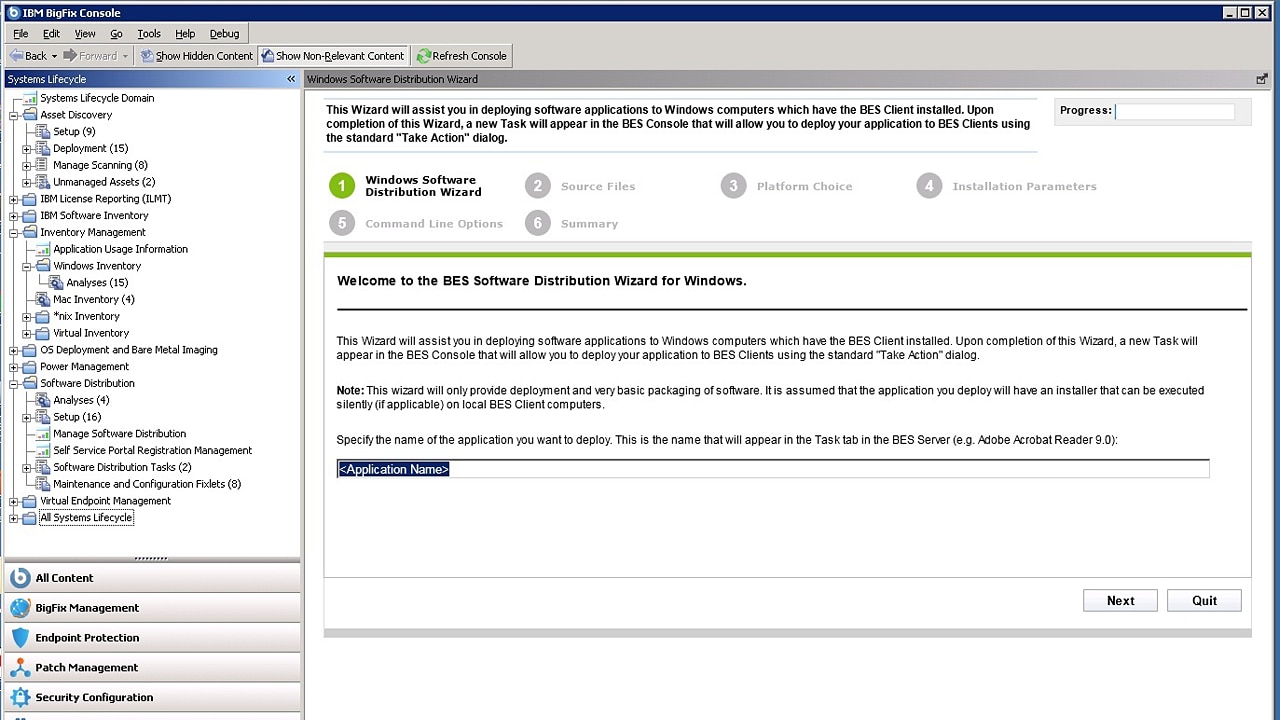 Find and Fix Problems in Minutes Across All Endpoints
BigFix Lifecycle helps find and fix problems in minutes across all endpoints—fixed, mobile, physical and virtual. Discover, secure and manage hundreds of thousands of endpoints on more than 90 different OS versions within hours or minutes. In addition to ensuring that all of your systems are patched and secure, you can automate OS Migrations, query endpoints in real-time for the presence of malicious files, quickly install software, perform advanced automation or do simple remote control with just a few clicks. BigFix Query accurately identifies and inspects endpoints through a user-friendly web interface using simple, intuitive questions.
Automate The Entire Lifecycle
Provides automated capabilities for asset discovery and inventory, real-time query, software distribution, operating system deployment and migration, patch management and power management.
Simplify Endpoint Management
Increase efficiency with automated patching, remote software deployments, Windows 10 migrations updates and re-imaging, clustered server patching.
Achieve Greater Visibility and Control
Get the "big picture" and achieve comprehensive control by managing the configuration of your servers, whether distributed or on site.
Key Features of IBM BigFix Lifecycle
Manage up to 250,000 endpoints from a single server
Cover the full system lifecycle
Reduce management complexity and cost
Simplify operations and deliver comprehensive visibility
IBM BigFix Inventory
Identifies licensed and unlicensed software across operating systems and endpoints. By measuring usage, it helps to reduce software costs.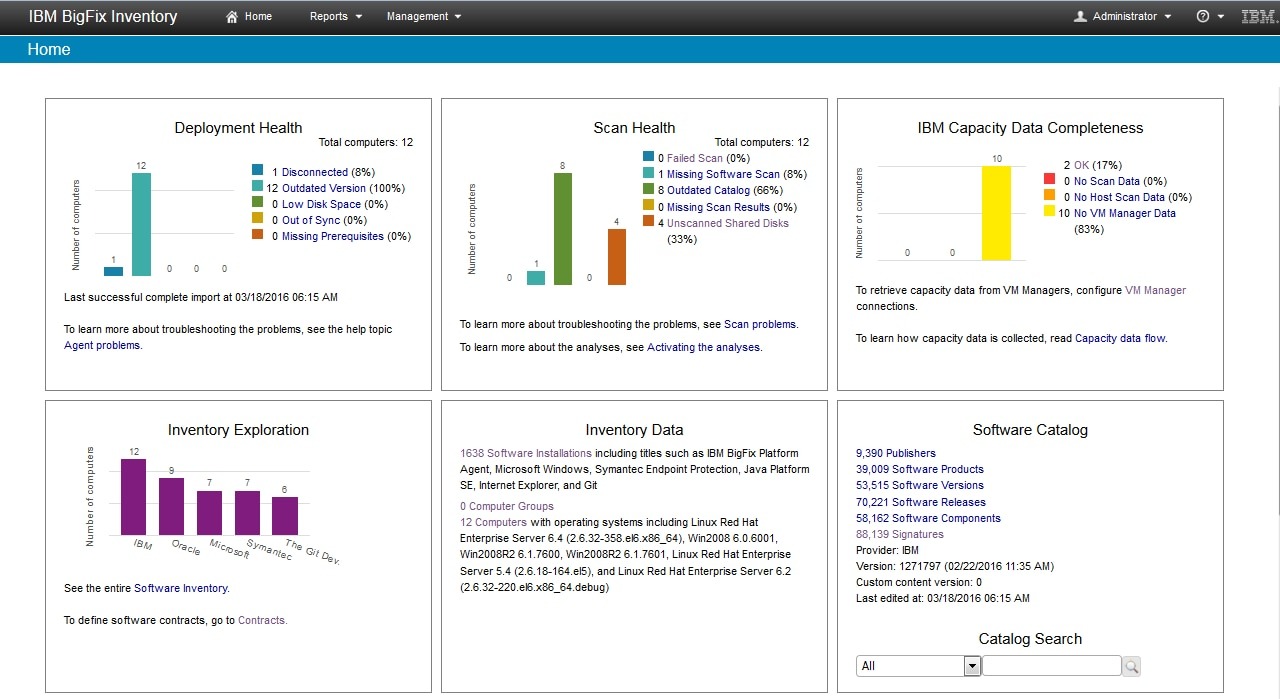 Maintain Audit Readiness and Mitigate Security Risks
IBM BigFix Inventory can dramatically reduce the time required to conduct a comprehensive software asset inventory for license reconciliation or compliance purposes. It provides valuable insight into what the organization owns—and what it has installed but does not own—along with how often the software is being used. It supports better planning, budgeting and vendor license compliance, while mitigating security risk.
Reduce Asset Management Costs
Keep track of hardware and software assets across hundreds of thousands of endpoints with fast deployment and reporting—even in multi-tenant environments.
Simplify Asset Identification
Streamline software asset identification and reporting by using ISO 19770-2 standard enabled discovery. Access an extendable software identification catalog with more than 100,000 software titles.
Be Prepared for Audits
Ensure audit readiness with discovery for software, processes and file systems—along with server capacity usage and metering. Save money and reduce security risks by identifying unused software.
Key Features of IBM BigFix Inventory
Manages assets across hundreds of thousands of endpoints
Delivers a comprehensive Software Identification Catalog
Enables enhanced reporting
Provides discovery for software and processes
Integrates with IBM software products
IBM BigFix Patch Management
Provides automated patch management to help reduce patch cycle times from days and weeks to hours or minutes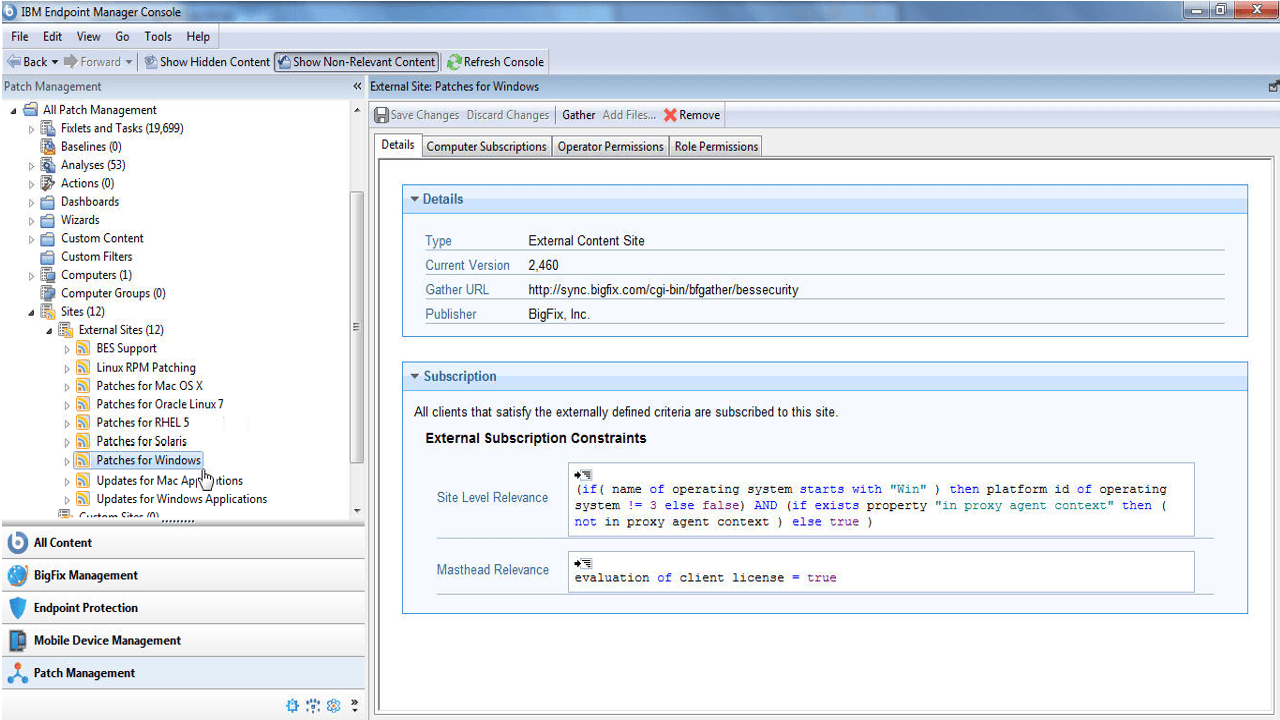 IBM BigFix Patch provides an automated, simplified patching process that is administered from a single console. It provides real-time visibility and enforcement to deploy and manage patches to endpoints—on and off the corporate network. Clients have reported seeing more than 98 percent first-pass patch success rates. The solution not only increases the effectiveness of the patch process, but also cuts operational costs and reduces patch cycle times keeping your endpoints secure.
Automate Patch Management
Manage and deploy patches for multiple operating systems and applications across hundreds of thousands of endpoints—regardless of location, bandwidth or device type.
Gain Greater Visibility
Get flexible, real-time monitoring and reporting from a single management console. Automatically assess the endpoint status after a patch has been deployed.
Reduce Compliance Risks
Proactively reduce security risk by streamlining remediation cycles from weeks to hours or minutes and achieve greater than 98% first-pass patch success rates.
Key Features of IBM BigFix Patch
Provides automated patch management
Applies only the correct patches
Offers greater visibility into patch compliance
Delivers real-time control from a single console
Proactively reduces security risks