Digifort – Video Surveillance
Intelligent video monitoring software utilizing the highest levels of available technology and providing best performance to suit any requirement.
VIDEO MANAGEMENT (VMS)
Digifort products are carefully designed to offer the highest quality video monitoring and management software, exceeding market standards and expectations, while providing tailor-made features for a wide range of applications. Today it has more than 240 manufacturers worldwide and over 6500 models of devices integrated to the system, complete alarm system and automation, reading automobile license plate, intelligent module of image analysis, integration with any access control system, biometrics, CRM, ERP, city management software, among others.
Digifort has created the Digifort Mobile Client, an application developed in java platform for mobile devices like tablets and smartphones (Android and IOs) that allows the visualization and playback of the images of IP cameras and encoders, ideal solution for companies and Homes, where at any time the user can view and control cameras, PTZ, activate presets or trigger events from any location, via Digifort Server, being a complement, not an additional module, not requiring the use of a license, Already available from version 7.
LICENSE PLATE RECOGNITION (LPR)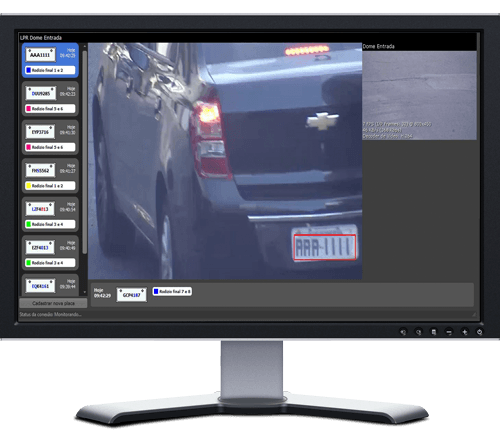 LICENSE PLATE RECOGNITION (LPR)
The Digifort LPR can be used on highways, streets, parking lots, shopping malls, businesses, or anywhere that requires identification of the automobile license plate. It is an intelligent module that, using Optical Character Recognition (OCR) features for automatic character recognition, identifies vehicle license plates and stores them in a database for immediate or future searches, allowing them to be associated with any necessary event, Generate alarms or automate the environment.
Possibility to determine which vehicles are authorized or not to enter an environment, open gates and gates automatically, applying traffic restrictions (stolen car, overdue IPVA, unpaid fines, among others), issuing alerts, enabling vehicle seizure, surrender of the vehicles. Passengers or any other measure deemed necessary.
ADVANCED ANALYSIS OF VIDEO (VCA)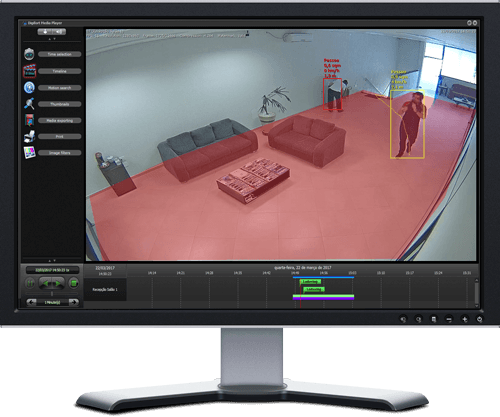 ADVANCED ANALYSIS OF VIDEO (VCA)
Digifort has a powerful video analytic module that used in conjunction with its client interface, will allow the monitoring to be more efficient and intelligent, helping the operators to obtain a greater ability to process claims and the detection of events. Developed for continuous operation, without the need for the operator's constant attention. It is constantly analyzing programmed behavioral situations, it generates alarms according to events that are occurring at the time of operation, for example: a car exceeding a speed limit, a person entering a property, a car parked or stopped in a restricted area, an abandoned object, an object removed or even to alert about suspicious movement of people.
Generates statistical reports and graphs for all events in the system such as counting objects and people, abandoned objects and face detection among others. It has several advantages such as: advanced algorithm for detection and tracking of objects, easy configuration and operation, efficient and uncomplicated solution.